Homeland ♥
In the name of Allah. The Most Gracious. The Most Merciful.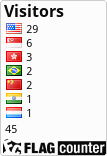 Goenawan Mohamad
Qur'an&Sunnah
I write
Prose
powered by tumblr
seattle theme by parker ehret
"Jika engkau menjumpai orang, yang ia sudah tahu dirimu, kenal dirimu, faham aibmu, dan engkau pernah tiga kali membuatnya kecewa atau marah, tapi ia tidak pernah menyebut dirimu di depan orang lain selain kebaikanmu, jadikan ia sahabat sejati"

— Ja'far As Shadiq.